Private & Powerful VPN
Openvpn, IPSec IKEv2, L2TP/IPSec, PPTP, Openvpn stealth mode (Stunnel) in one package for all devices
Always anonymous, nothing logged

Supports Windows, Mac, Linux, iOS, Android

Guaranteed 99.9% uptime

Most available bandwidth of all VPN providers

Servers in: Malaysia, South Korea, Japan, India, Israel, China, Australia, Singapore, Italy, Germany, Turkey, Sweden, Russia, Portugal, Poland, Norway, Netherlands, Iceland, Ireland, France, Finland, Spain, Denmark, Czech Republic, Switzerland, Canada, Panama, Mexico, Brazil, Argentina, USA, United Kingdom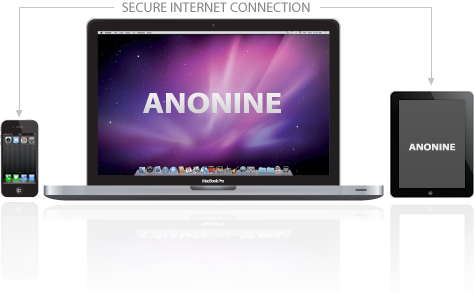 Become Anonymous with Anonine VPN!
As web surveillance become more prevalent in our society it is increasingly important to maintain privacy and personal integrity online. Due to this, we developed the Anonine VPN service which doesn't log any of the user's activity on the Internet and uses the best VPN servers in Argentina, Australia, Canada, France, Iceland, Italy, Luxembourg, Netherlands, Panama, Russia, Sweden, Singapore, Spain, Switzerland, Turkey, United Kingdom, USA.
Anonine private VPN service will encrypt your internet connection through our VPN tunnel, from the beginning to the end of your journey online, using the most modern technology, hence, providing the best VPN encryption available. Your private VPN account will give you anonymous access to any website that you enjoy visiting, in any country. Unlike other VPN services, our software can be used on multiple devices. To remain secure all you need is to log into your Anonine account and start surfing.